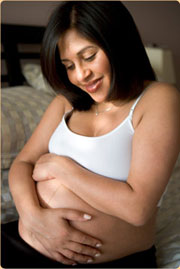 Our practice is dedicated to caring for a woman's unique needs in a warm and courteous environment.  We look forward to making this important part of your life as stress free as possible.  Our physicians provide a full range of prenatal services whether your pregnancy is routine or high-risk.
Your first OB visit will be a one hour appointment with our nurse.  You will be given packets of information including the book "What to Expect When You Are Expecting".    This book contains valuable information that you can refer to throughout your pregnancy.  As space is limited, we can only accommodate one additional person at this visit.  Due to the length of the visit, please do not bring children with you.  We want you to be able to focus on this special time.
Click on the links before for information and tips during pregnancy:
Please see our Women's Health section for additional helpful links.
Family Planning Services
We offer our patients a full range of contraceptive services. These services include counseling to teens as well as all women who want contraception. A full range of contraceptive options are available to our patients, including oral contraceptive pills, intrauterine devices, contraceptive rings, contraceptive patches, Implanon, and tubal sterilizations.