Our practice is comprised of board certified physicians who work together closely to provide you with expert care in a safe and nurturing environment..  We are the only OB/GYN practice in Delaware whose physicians are certified in the DaVinci Robotic Surgical System.  All of our physicians are members of The American College of Obstetricians and Gynecologists (ACOG).
Gregory W. DeMeo, D.O.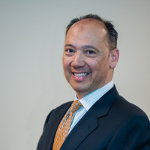 Stefanie N. Marshall, D.O.